Resources
We have put together a mix of self help articles, video's and diagnostic tools. Please feel free to download and should you require any assistance we would be happy to help.
Details

Category: Resources
Early Equipment Management is a continuous improvement process that will systematically improve your organisations ability to deliver new product, new equipment and new systems in less time with less resource and higher return on investment.
Details

Category: Resources
Predicting the Unpredictable: Assessing your project process. This PDF sets out common hidden project lossess when delivering new products or capital projects.
Details

Category: Resources
Delivering long-term performance improvement is a two part process beginning with…. Creating a sense of purpose
This article, written by Dennis McCarthy of DAK Consulting and Dr Nick Rich of the University of Wales, Swansea, is based on research into why some organisations are able to deliver year on year improvement whereas others, using the same Lean and TPM toolbox, have less success.
Details

Category: Resources
A plain English guide, setting out why TPM is so much more than operator maintenance. The TPM road map is characterised by practical workplace activities leading to increased operational reliability and year on year gains in performance. The practical nature of TPM increases shop floor problem ownership, develops skills and facilitates cross functional collaboration. It is a blueprint for organisational development and cultural change.
TPM was originally translated from the Japanese creators as Total Productive Maintenance. This guide also illustrates why TPM is more aptly translated as Total Productive Manufacturing.
Details

Category: Resources
The content explains how to avoid common Manufacturing Project Management pitfalls and deliver superior results from manufacturing project teams.
This covers areas specifically excluded from project management methods such as Prince2 these are
concept development
knowledge collation
Value engineering processes.
Project plan quality assurance
Factors account for more than 50% of the recipe for success for manufacturing
Details

Category: Resources
Organisations with outstanding levels of performance achieve that over time through an internal network of improvement leaders. To deliver year on year performance gains, those in key improvement roles such as Team Leaders coach their teams to meet the overlapping performance challenges of::
Taming Technology
Raising Operational Performance
Delivering Business Growth and New Skills
Key skills for People Centric Leaders to master:
Setting improvement priorities
Defining improvement tactics and mobilising resources against a realistic and achievable timetable;
Train and coach improvement team members to progress along that improvement path with confidence
Enrol and engage those impacted with the change with the compelling need to adopt and refine the improved approach
Find out more about our courses to develop team leader improvement skills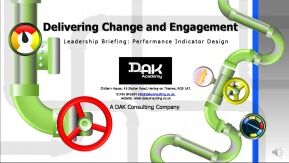 Details

Category: Resources
The most powerful lever for workforce engagement are the conversations that leaders have with their direct reports and managers.
Those conversations are driven by the way in which performance indicators are used. Get this right and it will facilitate workforce engagement so what do leaders need to do to make this happen?
Details

Category: Resources
Successful Continuous Improvement journeys pass through a number of leadership landscapes and transitions. The terrain of each landscape brings a different Leadership challenge and requires a shift in outlook, expectations/assumptions about what can be achieved and how.
Failure to challenge weak assumptions and reset accountabilties will result in CI programmes running out of steam.
Complete this short 10 question diagnostic to obtain a benchmark report of your current progress against the CI transitions of respected and award winning organisations on their journey to excellence.
You will also receive a confidential report setting out strengths and weaknesses as well as recommended next steps to progress towards industry leading performance
Download the diagnostic spreadsheet,
Complete the 10 self assessment questions
Return it to us.
You will receive a benchmark report on your strengths and weaknesses plus a free/no obligation programme to accelerate the pace of your improvement journey.